RECOMMENDED BOOK
Ocherki Khazarskoy Arkheologii
by Svetlana Aleksandrovna Pletnyova
ISBN 5-93273-009-9
360 pages, 124 NLL., TV. pereplet, published May 1999 by Gesharim Publishing House of Moscow and Jerusalem
---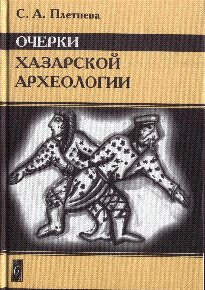 Kniga posvyashchena arxeologicheskim drevnostyam i pamyatnikam, svyazannim s kul'turoy Xazarskogo tsarstva kontsa VIII - nachala X vv. Kniga raskrivaet pered chitatelem stranitsi istorii ischeznuvshego tisyacheletie nazad pervogo krupnogo gosudarstvennogo obrazovaniya Vostochnoy Evropi s edinoy kul'turoy, razvitoy ekonomikoy, pis'mennost'yu i duxovnimy iskaniyami.

This monograph explores the archaeology of the Khazarian khaganate from the 8th to the 10th centuries. It features numerous illustrations (124 pages of maps and drawings), photos, and architect's plans. A 9-page bibliography is contained on pages 239-247. There is an English summary of the book (by Vladimir Iakovlevich Petrukhin) on pages 231-238.

Pletnyova has explored Khazar archaeology for over 30 years. She has authored books and articles about the Sarkel fortress, the Dmitrievskii archaeological complex, the Saltovo-Mayatsk culture, kurgans (burial mounds), nomads, herders, and other topics.
---
TABLE OF CONTENTS
Predislovie
Vvedenie: Saltovo-Mayatskaya Kultura - Kultura Khazarskogo Kaganata
Glava 1: Na Lesostepnom Pogranich'e
Glava 2: V Donskikh Stepyakh. I
Glava 3: V Donskikh Stepyakh. II
Glava 4: Priazov'e, Nasledie Bospora
Glava 5: Krymskie Vladeniya Kaganata. Stepnoye Pridneprov'e v VIII v.
Glava 6: Kavkazskie Predgor'ya i Ravniny. Stepi Povolzh'ya i Prikaspiya
Glava 7: Slozhenie Gosudarstvennoy Kul'tury
Posleslovie
Afterword (in English)
Literatura (bibliography)
Karti, risunki, chertezhi, rekonstruktsii
---
THIS BOOK IS OUT OF PRINT
---
Other books by Svetlana Pletnyova:

Die Chasaren. Mittelalterliches Reich an Don und Wolga by Swetlana Pletnjowa (in German):